We would like to wish you a warm welcome to our beachfront resort on Phu Quoc Island. During your stay we hope that you will find both fun and relaxation, and should you need any assistance please do not hesitate to contact one of our colleagues who will strive to make your stay as comfortable as possible.
ROOM & SERVICES
Should you require any additional water or room amenities, or services such as laundry, wake-up calls or any other assistance, please contact us by dialing the 'Instant Service' button on your in-room telephone.
SMOKING POLICY
Kindly be advised that according to our resort policy, smoking is prohibited in all indoor areas. A charge of VND 5,000,000 (plus service charge and tax) to purify the room will be issued if this non-smoking regulation is disregarded.
AIR CONDITIONING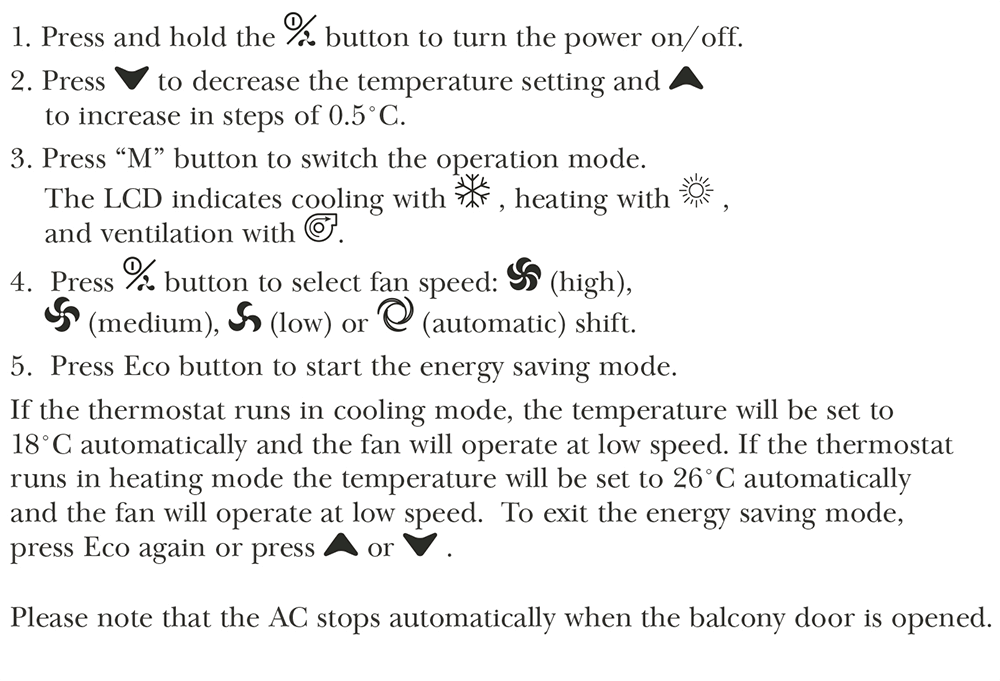 SOUND BAR
OVEN (FOR RESIDENCES)
Please select the cooking method by turning the button on the left hand side, and select your preferred cooking temperature by turning the button on the right hand side.
WASHING MACHINE & DRYER ( FOR RESIDENCES )
After using the Dryer, please do not attempt to open the door for 10 minutes after the cycle is finished to allow the machine to cool down.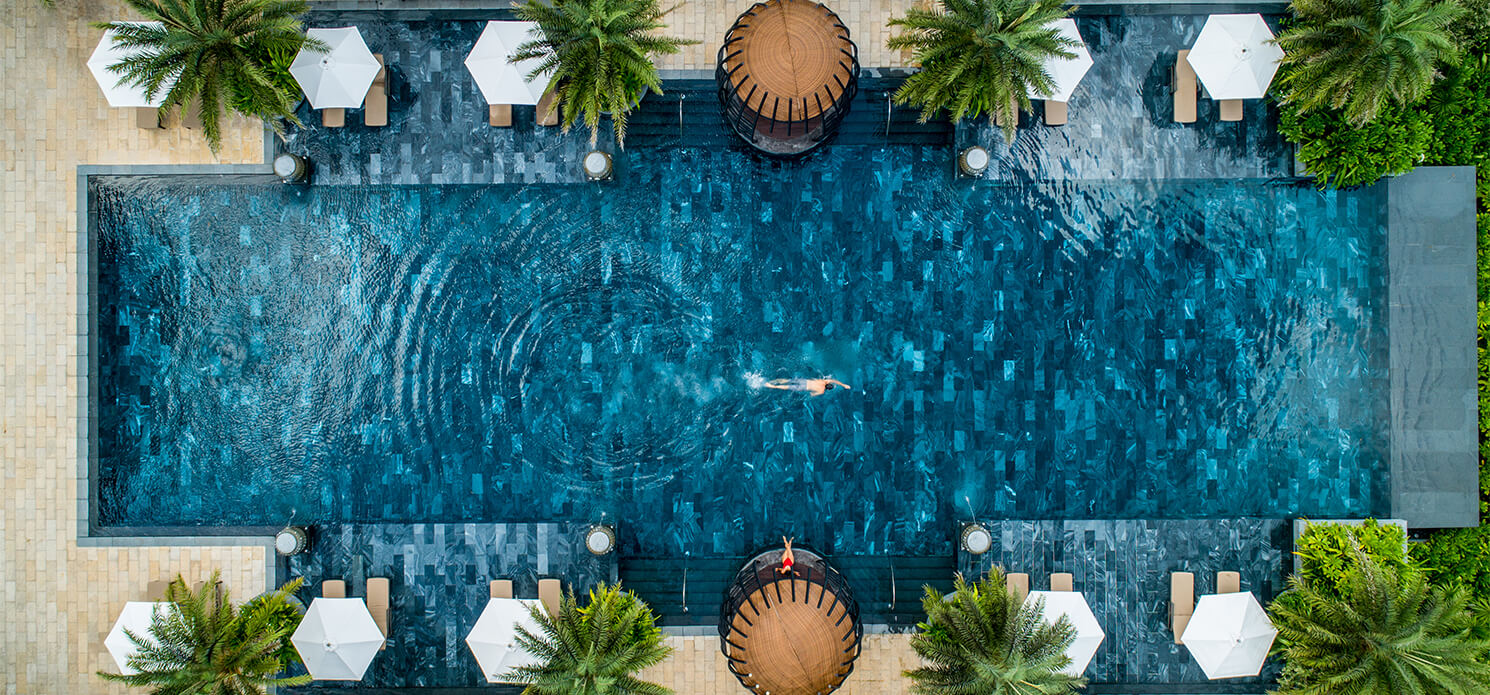 SWIMMING POOLS
Our swimming pools are open from 6am to 7pm.
SWIMMING POOL ACCESS (FOR RESIDENCES)
RESORT MAP
Click here to view our Resort Map.
RESTAURANTS & BARS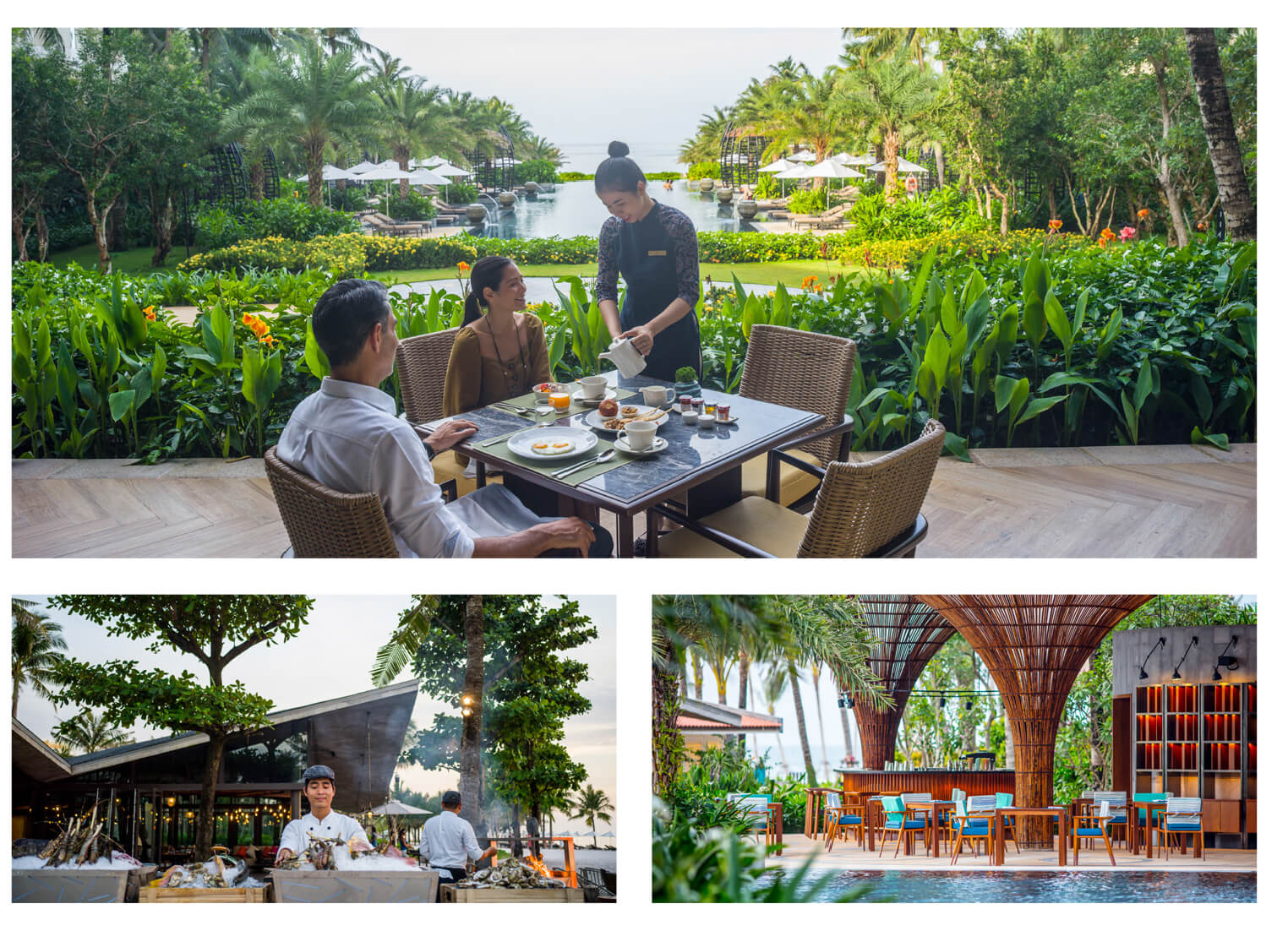 LAVA
A beautifully designed restaurant, LAVA offers guests local and imported produce from sea and land in a delightful beachfront setting. With live seafood tanks and an extensive wine list, the restaurant features both a la carte and set menu options.
Opening hours: Please note we are temporarily closed.
SORA & UMI
Our all-day-dining restaurant is where you can savour an international buffet breakfast every morning, along with Vietnamese cuisine throughout the day.
Opening hours: 6.30 AM – 10:30 AM
SEA SHACK
Steps from the ocean, our relaxed beachfront restaurant offers casual dining accompanied by an ocean breeze. Dine on Vietnamese or international cuisine, or enjoy mouthwatering BBQ, along with craft beers and tiki cocktails.
Opening hours: 6 PM - 10 PM
OMBRA
Located next to our Oasis pool, Ombra means shade in Italian and is the perfect place to enjoy a relaxing break from the activities keeping you occupied during the day.
Opening hours: 11 AM - 06:30 PM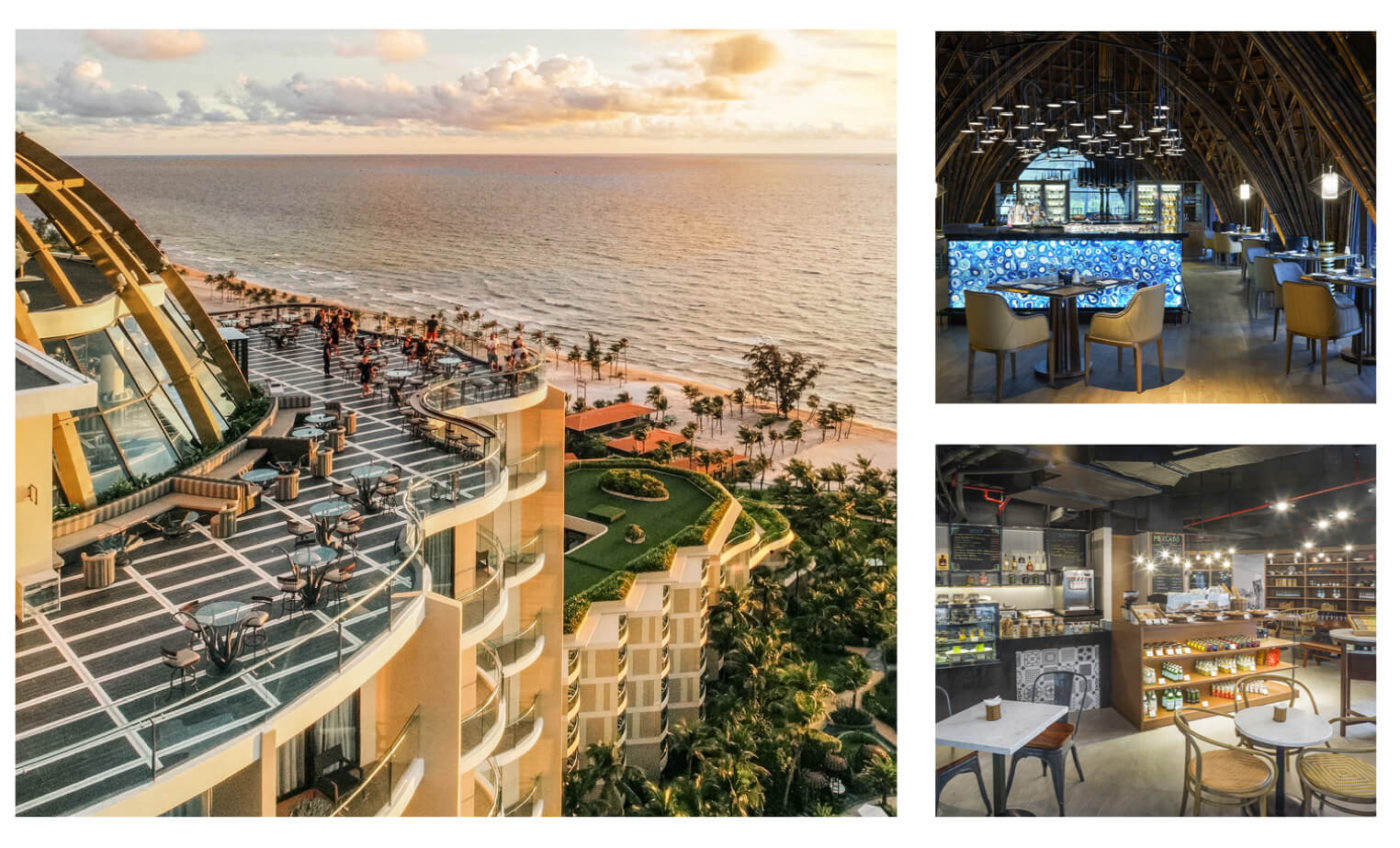 INK 360
On the 19th floor of the resort, experience the highest sky bar in Phu Quoc, offering the finest mixology and beautiful sunset views that stretch out across the ocean horizon.
Opening hours: Wednesday to Sunday, from 5 PM till late.
IN ROOM DINING
Our In Room Dining service is available 24 hours a day, and the menu is on your television. Please dial the 'In Room Dining' button on your telephone to place an order.
WELLNESS & RECREATION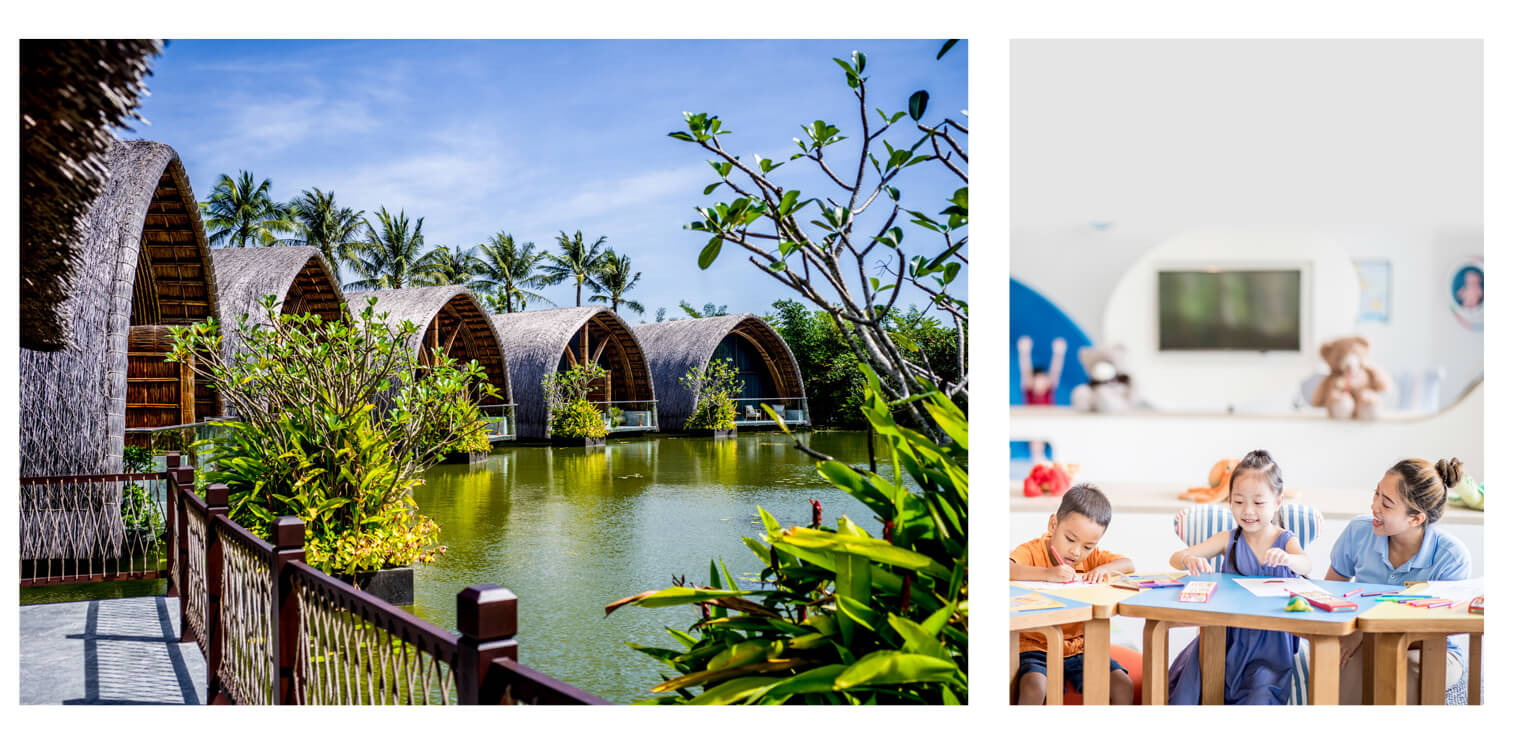 HARNN HERITAGE SPA
HARNN Heritage Spa is a place of natural serenity offering a unique and luxurious wellness experience inspired through the long tradition of healing Asian therapies.
Open daily 11:00 AM – 08:00 PM
FITNESS CENTRE
Located on the 6th floor of the Sky Tower, our 24-hour state of-the-art Fitness Centre comes with the latest equipment to ensure the best workout experience. Private classes with our personal trainer are also available.
Open 24 hours

PLANET TREKKERS CHILDREN'S CLUB
Our 250 sqm professionally supervised Planet Trekkers children's club is designed for our younger guests aged 4-12 years, fully supervised and secure with age-appropriate facilities and fun, culturally-inclined indoor and outdoor activities.
Opening hours: 9AM – 6PM

THE HIDEOUT

Located on the ground floor of resort wing 3000, our games room is equipped with games, pool table, computers, video consoles, reading corner, and an extensive library of DVD movies and board games.
Opening hours from now until further notice:
Monday - Friday: from 13:30 to 18:00
Saturday - Sunday: from 9:00 to 18:00
KIDS CAN COOK (KCC)
Under the guidance of our talented chefs at the dedicated KCC cooking school, children can learn and practice preparing their favourite treats, but also gain knowledge of local ingredients.
Please dial 0 for information on classes
RESORT CENTRE
Our Resort Centre on the 4th floor provides a wide range of Concierge services, and our dedicated team can help you to plan your stay both in the resort, as well as arrange sightseeing tours and activities in Phu Quoc.
7AM – 11PM
SHUTTLE BUS SCHEDULE
Our shuttle bus is available from 17th December 2021 to 6th February 2022. Please click HERE for the detailed schedule & regulations.